Xbox controller adapter won't light up
The problem:
I bought a new Xbox controller with pc adapter but the adapter won't work. Even if I press the pairing button it won't light up, it it won't do anything.
In order to for it to work you have to pair them.
When you click the pair button on the adapter it starts flashing: good.
When you click the pairing button on the receiver it doesn't do anything: bad.
If you go in device manager you will see the driver is not correctly installed and it won't auto-install. It will say something about XBOX ACC and an exclamation mark on it.


You will have to install the driver manually.
This website explains the process but it's not correct.
The solution:
1. Go here: http://www.catalog.update.microsoft.com/Search.aspx?q=Xbox%20Wireless and it should already have searched for Xbox Wireless.
If not search it on the right top corner text box.
It will not be the first result.
The driver that worked for me was
| | | | | | |
| --- | --- | --- | --- | --- | --- |
| Xbox – Net – 7/11/2017 12:00:00 AM – 1.0.46.1 | Windows 10 Anniversary Update and Later Servicing Drivers,Windows 10 S and Later Servicing Drivers | Drivers (Networking) | 7/10/2017 | 1.0.46.1 | 217 KB |
You will have to manually install this driver for the driver that apears not to be working in the device manager.
2. Move the driver you downloaded into a folder (8884e7cc-6130-4803-9fc4-6b542f0f2b4e_1080d7146d5022210f192a3897e22f7c7f25caf6.cab).
3. Extract it because it is an archive, using unzip.
4. Go in device manager, right click -> update driver -> manual install -> select that folder where you unzipped the files.
Now the problem driver should have disappeared and it should appear like this in network adapters in device manager: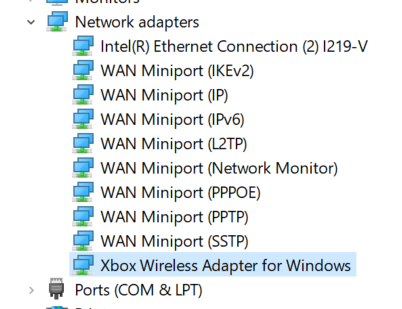 If you press the button on the receiver and hold it a few seconds it should work now.
The light on it should turn on and flash intermittently.
You can pair the controller if you press the pairing button on the controller also.